| | |
| --- | --- |
| Manufacturer | Mercedes-Benz |
| Modell | Arocs 1835 A 4x4 |
| Transmission | Automatic Power Shift 3 |
| Engine power | 260 KW / 354 PS |
| Cubic capacity | 7.700 ccm |
| Torque | 1400 Nm |
| Empty weight | 13.500 kg |
| Total weight | 18.000 kg |
| | |
| --- | --- |
| Length | 8800 mm |
| Width | 2480 mm |
| Height | 3880 mm |
| Wheelbase | 4500 mm |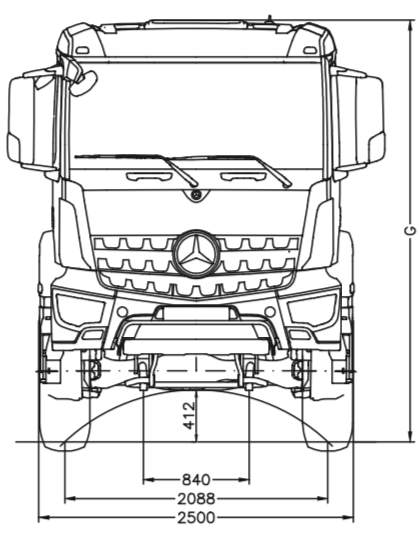 Outside dimensions
6030 x 2480 x 2250 mm
Inside dimensions
5900 x 2350 x 2110 mm
Beds
1 x 2000 x 1600 mm (Rear bed)
1 x 2000 x 1300 mm (Reconstruction seating area)
Heater
ALDE Compact 3020 gas und 230 V with boiler 8 l
+ 20 l (Elgena 230 V) Hot water boiler
Fridge
130 l Compressor
+ 65 l Freezer
Fresh water
650 l
Grey water
250 l
Black water
120 l
Gas
1 x 60 kg Gas tank
+ 1 x Gas bottle
Power source
450 Ah Lithium battery pack – 6 x 100 Wp solar
Windows
KCT- Real glass windows and KCT-skylight with combination blind
Doors and flaps
GFK
Manufacturer
Firma Frank Woelcke Heimsheim
What was important to us?
Kitchen
Here our goal for two people was to build as small as possible and as large as necessary with appropriate storage space and cooling and freezing capacity.
Live & Eat
The light-flooded room was of particular importance in the planning of this area. In addition, we like to sit comfortably opposite each other while eating. The space on both sides gives us the opportunity to comfortably put our feet up and enjoy the panoramic view outside. The entire living area is large enough for a meal for up to four people. It is possible to convert the seating area into a bed.
Sleeping Area
We planned the beds across the direction of travel in order to keep the body as compact as possible. In the sleeping area, we have also attached great importance to a good view of nature. Therefore the window with a view to the rear, which, however, becomes dirty more quickly on longer journeys on dusty roads.
We can separate the sleeping area from the living area with a mosquito net that is magnetically attached to the ceiling and the two side frames.